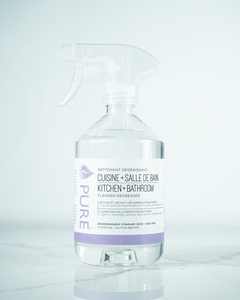 Pure - Kitchen & Bathroom Cleaner
This option includes the original 500ml plastic spray bottle of PURE's Kitchen and Bathroom Cleaner. 
Do you love this product?
Instead of purchasing another bottle, consider purchasing a

refill.

Purchase the at

home refill station.

This 4L Jug contains 8 refills within it. It reduces wastes, but also is the best option when it comes to saving you time and money (saves your $22!)
Product Description
Pure's Kitchen + Bathroom may be used throughout the home. Mom uses it to clean the changing table and dad wipes the BBQ grill. Teens remove the flies on the front of their car and Grandma cleans all the limestone in her shower. This product cleans naturally thanks to peppermint. It smells like pure happiness. This very versatile cleanser dissolves grease, stubborn stains, disinfects and deodorizes without rinsing and especially without leaving a trace.
Strength:
Effective for cleaning the countertop, sink, appliances, cabinets, microwave-oven, floors, ceramic tiles, stainless-steel, chrome, fiberglass and porcelain surfaces.
This product deodorizes areas and is ideal for removing odors from garbage, empty trash cans, basements, toilets and other odor-prone areas caused by microorganisms.
How to Use:
For hard nonporous surfaces, spray area until thoroughly wet. Let stand few minutes then wipe with damp cloth or with lint-free cloth. 
Ingredients:
Aqua
Laureth-9 plant derived cleaning agent
Propylene glycol n-butylether

 

plant derived wetting agent
Alkyl benzene sulfonic acid monoethanolamine salt synthetic & biodegradable cleaning agent
Trisodium methylglycine diacetic acid

 

plant based chelating agent
Dipropylene glycol mono methyl ether

 

plant derived wetting agent
Sodium lauriminodipropionate plant derived cleaning agent
Sodium hydroxide

 

mineral pH adjuster
Fragrance/Parfum

 

mix containing at least 50% of natural essential oils and sometimes synthetic fragrance always without harmful chemicals
This product is available in a 10L bulk option as well,  please contact us at thesimpleconceptshop@gmail.com for information on pricing and to order.