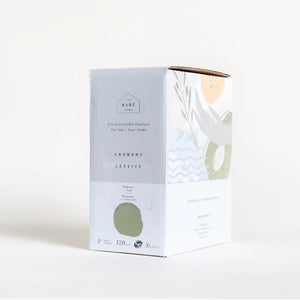 The Bare Home - Laundry Detergent - Bergamot & Lime REFILL STATION
Regular price $50.00 Sale
Setting up your own at home refill station is certainly the way to go. This 3L box provides you with 3 refills of The Bare Home's Bergamot & Lime Laundry Detergent. This option reduces waste, but also saves you time & money! 
How to use your at home refill station?
Use it to refill your empty

original glass bottle

Fill an empty container

 that you have at home
*not quite ready to commit to 3L? That is okay! Consider getting a mason jar refill until you are!
Please note that we do not always have these products in stock. If we do not, the fulfillment time could be anywhere from 1-3 weeks.
What about the fact that there is a plastic bag in the box?
Well the plastic from that bag is significantly less waste than 6 original bottles ! And did you know we offer a recycling program? Yes, we do! When you are ready for your next refill station, we will accept your empty bag back for a small recycling fee of $2. The bag will be placed in our Terracycle box so that it can be properly recycled. 

Product Description
Eco-Sustainable natural cleaning products that are safe for you, your home and the earth.
Let this plant powered goodness do the dirty work. Tough on stains, colour-safe and effective even in cold water. The Bare Home's concentrated laundry detergent is suitable for both HE and standard washers. The Biodegradable formula is hypoallergenic and cloth diaper friendly.
Scented using organic essential oils.
1 Litre Refillable Glass Bottle = 40 Loads
Directions: Use 7 pumps or 25ml per load for HE washing machines and 40ml for top loading machines. 
BIODEGRADABLE | PHOSPHATE + DYE FREE | NOT TESTED ON ANIMALS
HYPOALLERGENIC FORMULA | CLOTH DIAPER FRIENDLY 
MADE IN CANADA
Ingredients/Ingrédients: Aqua, Cocamidopropyl Betaine, Hydroxyethylcellulose, Coco-Glucoside, Phenoxyethanol, Sodium Tetraborate, Sodium Carbonate, Organic Citrus Aurantifolia (Lime) Peel Oil, Organic Citrus Bergamia (Bergamot) Peel Oil