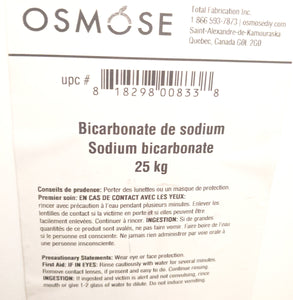 Sodium Bicarbonate (Baking Soda)
Sodium Bicarbonate (Baking Soda) Osmose with Pure
$4.50 for 1L refill delivered via Mason Jar + Deposit 
Baking soda has many ecological qualities. It offers many applications in the kitchen, body care, hygiene and maintenance of the home, as well as for the garden and animals. Here are some of its properties: mild scouring abrasive, deodorant, stain remover, dental whitener and oral disinfectant. The baking soda from the Osmose range is food grade. 
Convenient packaging: hermetic, resealable and reusable.
Food grade and aluminum-free
Sodium bicarbonate isnontoxic to the environment and to humans.  
Ingredients: Sodium bicarbonate
Baking Soda has so many purposes, this baking soda is for cleaning purposes only. 
- use it with cleaning vinegar to fizz up and provide extra cleaning power
- mix 1 cup of baking soap with 1/4 cup of castile soap to make an amazing bathroom scrubbing paste