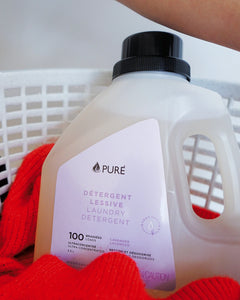 PURE - Laundry Detergent Lavender
Regular price $23.00 Sale
Pure Laundry Detergent is made of ingredients that are good for the environment and your health, in a super concentrated formula. 95% of it dissolves in water. That, means less particles released into the wild, and also means less residue on your clothes.

Are you interested in a home refill station? Check out our 4L and 10L options that also come in a variety of scents!
What can you ask more of a laundry detergent? Smell good, soften all fabrics and reduce static ? Right, right. It does that too. There's no good enough reason in this world to settle on a product that only takes care of your favorite human's, your wallet's and our planet's health. Pure Laundry Detergent takes it one step further, we also satisfy expectations. 
Perfect for sensitive skin and babies.
Great for cloth diapers.
Efficient in cold water
Can be used on clothes as a stain remover.
Ultra-concentrated formula
Ingredients
Aqua
Sodium laureth sulfate (plant derived cleaning agent attested without contaminant)
MEA-oleate (plant derived cleaning agent)
Sodium carbonate (mineral based cleaning agent)
Sodium chloride (mineral viscosity modified)
Laureth-7plant (derived cleaning agent)
Polyacrylic acid (synthetic & biodegradable anti-redeposition agent)
Alkyl polyglucoside (plant derived cleaning agent)
Methylglycinediacetic acid, trisodium saltplant (derived chelating agent)
Sodium lauriminodipropionate (plant derived cleaning agent)
Sodium hydroxide (mineral pH adjusted)
Fragrance/Parfum mix (containing at least 50% of natural essential oils and sometimes synthetic fragrance always without harmful chemicals)