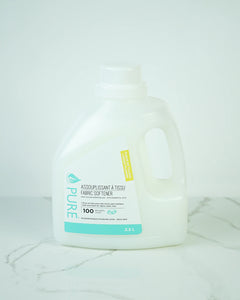 PURE - Fabric Softener - Linden Flower
Regular price $16.00 Sale
Directions: FOR FRONT-LOADING WASHERS (HE) : 25 ml / load.FOR CONVENTIONAL WASHERS : 40 ml / load *Add more for a stronger scent.
*Please note that we offer 12% cleaning vinegar and wool dryer balls that are alternatives to conventional fabric softener.
Information: Pure fabric softener is made of a formula that makes your clothes smell good, for a long time. It stops static on all types of fabric and gives them a feeling of freshness. The aromas of this product are created from essential oils. It is gentle and safe for sensitive skin. It softens fabrics and gives them a feeling of freshness. Fragrances made with essential oils
Soft formula for sensitive skin
Biodegradable
Vegan
Not tested on animals
Effective in cold water
Ingredients: Aqua waterMethyl bis (hydrogenated tallow amidoethyl) 2-hydroxethyl ammonium methyl sulfate naturally-based fabric softenerFragrance/Parfum mix containing at least 50% of natural essential oils and sometimes synthetic fragrance always without harmful chemicals 
Warnings: Keep out of reach of children. Avoid contact with skin and eyes. In case of contact, rinse eyes and skin for several minutes. In case of ingestion, drink a lot of water. Do not induce vomiting. Seek medical attention, if needed.