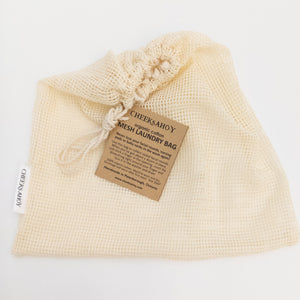 Laundry Bag
Mesh Laundry Bag by Cheeksahoy
10 x 9"
Great for washing your facial rounds, cloth wipes, delicates or even socks (you know you always lose the other one...so put all your dirty socks in the bag to wash!)
Handmade in Peterborough, Ontario
Organic Cotton
About Cheeksahoy, directly from their website:
"In 2013 our first baby was born, and I was so excited to start cloth diapering. But we soon realized that our baby's skin was quite sensitive to disposable wipes, not to mention that I was throwing away those wipes at an alarming rate! This gave me an idea… 
I sewed up my first batch of flannel wipes and loved them so much that I made a set for another new mom. They loved them too! So, I thought "what else are we throwing away that could simply be replaced with something more eco-friendly?!" We now offer a full line of household cloth reusables with the goal of helping families care for the environment, while also saving money. 
Each item we make is sewn with love and care right here in Peterborough, Ontario.
​~Leah"