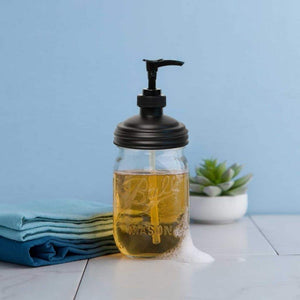 ReCap - Pump (Black) - Mason Jar Adapter
Regular price $12.00 Sale
This NEW black mason jar pump attachment is great for your dish or hand soaps! The functionality of these are so smooth and easy - very kid friendly!
Product Description

The reCAP Adapta Cap Regular Mouth Pump is a multi-purpose cap that transforms a Mason jar into soap & lotion dispensers and more. The Adapta Cap is making Mason jars more useful than ever. What will you reCAP?
Regular Mouth Mason Jar ADAPTA Pump
Food Safe, Rust Free, BPA-free
Jar Not Included
Care Instructions: Do not place in microwave. Jars not included. Not for canning.
We have so many great mason jar adapters!
All adapters will fit our 473ml and 1L mason jars (Regular Mouth, 70mm, 2 3/4", 70/400, G70)
Price is for the adapter only. Jar not included.