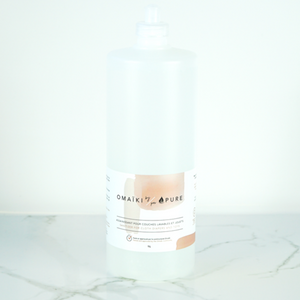 Omaiki by Pure - Sanitizer for Surfaces & Laundry
Regular price $13.00 Sale
This option includes the original 1L Bottle of Omaiki by Pure's Surface and Laundry Sanitizer. 
Do you love this product?
Instead of purchasing another bottle, consider purchasing a

refill.
Purchase the at home refill station.

This 4L jug reduces wastes, but also is the best option when it comes to saving you time and money 
Product Description
Made from safe ingredients for your child and the planet, Omaiki Sanitizer by Pure is an excellent bleach to add to your laundry load. This eco-friendly product optimizes the washing of your washable diapers during the normal cycle. Offered in bulk, always a little closer to your zero-waste goal. perfect for washable diaper care excellent ecological bleach.

***please note: Usually, we recommend mixing 5ml to 1L of warm water to dislodge germs and bacteria. However, you must increase the dose to 125ml in order to eliminate the COVID-19 virus*** 
HE FRONT LOADING WASHER : 15 ml/top load
REGULAR WASHER : 30 ml/load
To wash the toys, mix 1L of water and 5 ml of sanitizer in a spray bottle. Spray, let stand for a few minutes, wipe away and rinse with water.
Ingredients: Aqua Hydrogen peroxyde Phosphoric acid Laureth-7 Dodecyl benzene sulfonic acid Propylene glycol Sodium phosphate dibasic Potassium hydroxide Add the sanitizer to a normal wash cycle, in the bleach compartment.
After sanitizing, rinse thoroughly. 
In this kit you have received:
1 L jar of Sanitizer for Surfaces & Objects (for ingredients please visit our website)

1 L Empty mason jar to hold your wipes

A ReCap Wide Flip Cap lid

10 Assorted 8x8 Cotton Wipes **patterns and colours are randomly selected
Please note that there are no deposits on any of these jars. You are welcome to return them if you wish, but they are included in this kit and for your to keep. That is why these are great options for gift giving.
CARING FOR YOUR WIPES
100% Cotton Flannel - Flannel naturally becomes softer and more absorbent with continued washes. They can also be used as diaper wipes, bath time cloths, runny noses, camping, napkins, lunch boxes and removing make up. To start, we recommend washing and drying your wipes 2-3 times to fluff up the fibres. *Do not use fabric softener/dryer sheets with your cloth wipes as they can decrease absorbency.
ROLLING YOUR WIPES
Lay all your wipes out flat in one pile

Start with one wipe and roll it up completely (like a paper towel roll)

Then roll the next wipe around that one

And repeat until 10 wipes have been rolled 
MAKING YOUR WIPE SOLUTION
Mix 35 ml of Sanitizer with 1 cup of water

Stir & mix well
ASSEMBLING YOUR KIT
Take your empty 1L mason jar

Add in your 10 rolled cloth wipes

Pull the middle wipe up just a bit

Pour your wipe solution slowly over all the wipes, you may not need the whole amount, so take your time until you find a dampness that you like

Allow your wipes to sit for 1-2 hours to really absorb the solution evenly 
A full video on how to assemble and use your wipes can be found on our website
https://thesimpleconcept.com/blogs/news/our-diy-sanitizing-wipes-kit
OTHER USES FOR YOUR SANITIZER
Your sanitizer can be made to make a solution for your cloth wipes AND
You can mix 125ml with 1L of water and use it as a spray or wipe down surfaces or objects

You can mix up enough sanitizing solution to make a "bath" to place in kids toys and other objects that are difficult to sanitize 

You can use it at full concentration and add 30ml to your laundry to sanitize clothing
Please remember that in order to properly sanitize, your surface should always first be washed with soap and water to remove any grim or dirt so then sanitizer can work effectively.