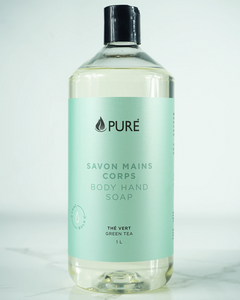 PURE - Body Hand Soap Green Tea
Regular price $17.00 Sale
Description
Our moisturizing cleanser just makes your life easier. It goes everywhere (kitchen/bathroom sink, shower, gym bag, name it!). It also pleases everyone. With its natural ingredients and delicate formula, it fits any type of skin, even the most sensitive.
There is even a hypoallergenic version, perfume less. That said, you can pick yours with an aroma. If so, you are in for a dilemma. More of a green tea type? Unless you are already sold on almond blossom? Maybe that is only because you haven't tried tangerine or lavender yet!
The 1L format is designed to make your life simple. You are saving up to 25% every time you fill it up at our bulk service points..